How to Make a Cake in Different Ways at Home
There is nothing more enjoyable than baking a cake in your kitchen. It is as simple to work than to measure ingredients and then to mix them in the right order.
Also, you need to know and note down to take your cake out before it gets burned. Preparing caking is not only in ovens but also in microwave and cooker. You can make different cakes with different flavors, including chocolate, vanilla, and apple cake.
Here are some steps to bake a cake in different ways. 
1. Vanilla cake
Ingredients required for baking a Vanilla cake:
A cup of granulated sugar and a cup of unsalted butter

A pinch of salt

Two teaspoons of vanilla extract

Five eggs at average room temperature

2 cups of all-purpose flour or 2 cups of cake flour along with two tablespoons of cornstarch
How to make Cake in Oven:
1. It is enjoyable and straightforward to prepare a pound cake. Before adding batter to the pan, and then to the oven, you need to preheat it till 325 F.
2. Before adding batter to the pan, grease it up to your container. Pound cakes are best for deep pans like loaf pans. Butter is the best material to grease your cake pan. After oiling, add a small layer of flour in the pan and then rotate it till it gets coated evenly. Now tap out extra flour from it.
3. Place wet ingredients like sugar and butter in one mixing bowl. Beat your mixture together until it becomes light, creamy, and fluffy.
4. Now add on Vanilla extract and eggs to your mixture after one another. Beat your butter in the bowl. Keep mixing your batter until eggs get entirely mixed up.
5. Now use the electric mixer to incorporate batter completely. However, be sure not to over mix batter.
6. Pour your batter in a pan using a spatula to scrape the downsides of a bowl.
7. Let your cake to bake at 180 degrees for half time and then turn its position for even baking. Let total baking time be one hour and fifteen minutes after that, use a toothpick to check if it comes out clean. This is how to make a cake at home.
2. Chocolate cake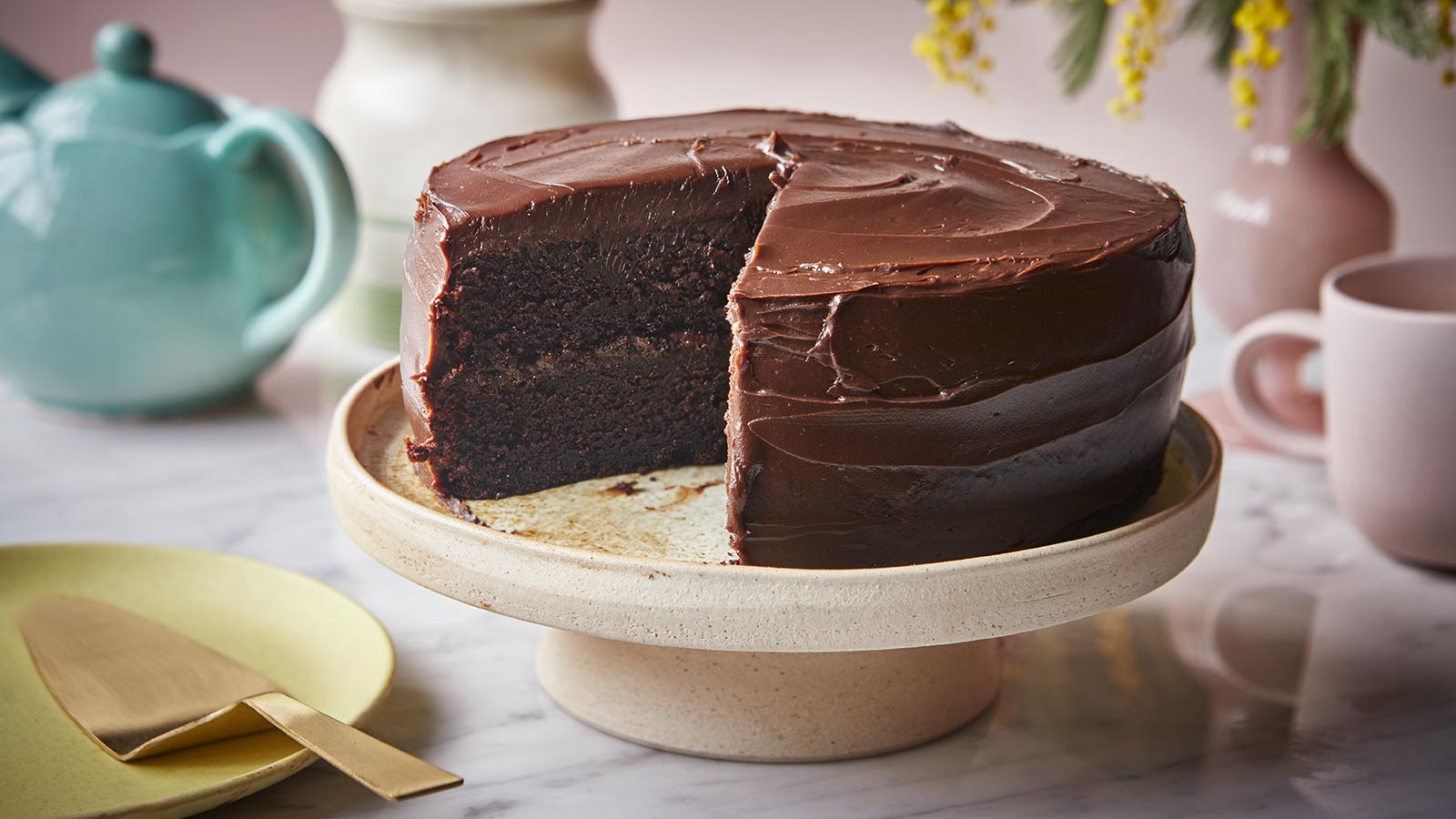 Ingredients required for baking a Chocolate cake:
170 g of unsalted and softened butter

64 g of unsweetened cocoa powder

1.4 g of salt

1.2 g of baking powder

90 g of flour and 225 g of granulated sugar

4.9 ml of vanilla extract

Three eggs at normal temperature

120 ml of buttermilk
How can you make a Cake in Oven?
1. Firstly you need to gather all your ingredients to add in your batter.
2. Preheat your oven to 177 degrees C. Now grease up your pan with butter or margarine before adding something to it. A pan must be deep like a loaf pan or a bundt cake pan. Now add a light layer of flour after greasing.
3. Place your ingredients, including vanilla extract, eggs, butter, buttermilk, and sugar in a bowl. Use your stand mixer or hand to blend them evenly.
4. Wet ingredients generally have moisture in it. Sugar comes under wet ingredients; even it is not slippery.
5. Take a large bowl to mix all wet ingredients properly. Mix dry ingredients separately and later add them to the wet one.
6. It is good to follow instructions for butter in a cake because if you use melted butter, then the cake will come flat. Thus it is right to go with a softened one. Plan by setting butter out and let your other ingredients get ready.
7. Take a separate bowl to sift the cocoa powder, flour, and baking powder. These are all dry ingredients. Take a small bowl for them and mix them until they get incorporated.
8. Now start adding dry ingredient mixture to wet one after beating low. A batter must come together first, and there must be no white buts of flour.
9. Use a spatula to put batter onto the sides of a bowl. It ensures every bit of mixture in the pan.
10. Now put your cake pan in an oven. Bake it first for thirty minutes. Rotate your pan after half time to 180 degrees.
It is to ensure even baking of the cake. Use a toothpick to insert and check if it comes out clean. Also, keep on checking the progress of cake to avoid its burning.
However, please do not open the oven door to check it from the window side. If you open the door, then it will reduce the temperature of the inside and further increase its bake time.
11. Let your cake cool down for 5 minutes before you handle it. Your frosting will melt off if you add it to the warm cake. Thus it is right after the cooldown of cake.
3. Apple Cake
Ingredients required for baking an Apple cake:
90g flour with 3.45 g of baking soda

Two eggs at room temperature with four large apples of any variety

A pinch of salt and 170 g of granulated sugar

120 ml of unsalted melted butter

2.5 ml of vanilla extract
Directions to prepare apple cake:
1. Gather all your ingredients required, as mentioned above. As mentioned in the above two methods of cake baking, grease up your pan and preheat your oven to 177 degrees before baking a cake. It is good to use a springform pan with removable sides that let you serve the cake at the party.
2. Melt the butter on the stovetop and then it cools down at room temperature. It will help the butter to incorporate with rest ingredients.
3. Stir properly dry ingredients in a bowl. Dry ingredients include salt, flour, and baking powder. Whisk all together.
4. Peel off your apples using a vegetable knife to get rid of cores. Cut an apple into small slices of bite chunks. Blend butter and sugar using a stand mixer and keep on adding eggs one by one. Now blend vanilla extract into the batter.
5. With the help of hands, keep on adding dry ingredients mixture to your batter to make it creamy and smooth.
6. Now, gently add apples into the batter. However, be cautious not to overmix it as it will lead to a stiff and dense cake. Toss your apple chunks in the flour before adding pieces to your batter to not to let it sink.
7. Using a spatula, let yourself smooth the top of batter so that it becomes even. Now add your prepared mixture to the pan. Bake your cake for fifty minutes at least and keep examining it from a window. After halfway, rotate your pan by 180 degrees for even baking. This is how you can make a cake at home.
How to make a cake without egg?
Here along with this cake, we will share a recipe for eggless chocolate cake with you. It is a dairy-free cake that gets prepared in less time as compared to other cakes. It is a perfect dessert for you.
This cake is delicious seriously. Some people refer to it as Depression or Wacky Cake. With this, you will learn how to make a simple cake.
This cake will follow up for people with dietary choices. This is because people may have lactose intolerance, and they may be allergic to eggs. But they still enjoy their favorite chocolate cake.
Ingredients required making a cake without eggs.
Well, for making this cake, you would not need any electric mixer for mixing of products, take a spoon and a bowl. It will take only twenty minutes to bake this cake in the oven. Also, you would be having the ingredients required at your home right now.
To have an eggless chocolate cake, you would need
175 g of plain flour

One teaspoon of baking soda

40 g of cocoa powder

240 ml of water

20 g of caster sugar

One teaspoon of vanilla extract

120 ml of vegetable oil

To have cocoa frosting, you would need

125 g of powdered or icing sugar

One tablespoon of maple syrup

Two tablespoons of cocoa powder

Two tablespoons of water
Eventually, these ingredients will end up forming a super soft cake. It melts in the mouth as the cocoa flavor is strong to attract a good number of people.
Instructions you need to follow to make an eggless cake:
1. Preheat your oven first at 360 F or 180 degrees C. Take a pan or cake tin and grease it using butter or oil spray. Line up the inner surface of the pan with baking paper.
2. Now take a large mixing bowl to add ingredients like flour and cocoa powder to it. Now add sugar and baking soda until your mixture gets incorporated. Take another bowl and add vanilla extract, oil, and water to it.
3. Now slowly add some water to dry ingredients and continue blending your batter to combine. Pour your mixture in the prepared tin and let it sit for around half an hour in the oven. Keep checking your oven cake using a toothpick until it comes out clean. Now transfer your cake to wire rack to let it cool down.
4. To prepare to frost for your cake, mix cocoa powder and sugar properly. Continue adding maple syrup and water until your frosting becomes smooth. Pour this frosting over cooled cake and then serve it immediately.
This is a way how to make a simple cake at home.
Making a Mug Cake at home
Ingredients required

:
One egg with ½ teaspoon of vanilla extract

Two tablespoons of brown sugar and one for butter

Two tablespoons of chocolate chips with three of self-rising flour

Directions to make a cake:
Directions to make a mug cake at home:
1. Use any mug type for preparing a cake. If you have a broad and deep mug, then it will create a soft and moist cake. A smaller one will create a firm cake.
2. Now add brown sugar or honey in the mug. Add a half teaspoon of vanilla extract to it, and after that, 44.4 ml of flour.
3. It does not matter if you don't have rising flour, then you can use regular flour. However, your cake will form a brownie texture at the end.
4. Crack one egg into your mug. Mug cakes do not have virtual cleanup. Hence you can toss a shell in the trash.
5. Take your butter out of the fridge to soften it. Take one tablespoon of it and then add to the mug. No matter it is salted or unsalted. You can use any of them.
6. Now add one or two tablespoons of chocolate chips. It will help in forming a chocolate flavor mug cake. If you want a simple vanilla cake, then add a few tablespoons of vanilla extract.
7. With the help of a spoon, stir the whole mixture together. Stir them well until chocolate chips get folded in or all other contents get combined. Do not worry about mug top edges of being messy. The cake will inevitably rise to a level in a microwave.
8. Put your mug with batter in the microwave on full power for around one minute. Check now if your cake is being baked or not. Use a toothpick to check for it down. Your cake is baked if a toothpick comes out clean. Now put the mug back for 30 seconds.
9. Be sure not to overcook your cook. Do not let your microwave take too long to bake a cake as it will dry out. The period must not be more than 2 minutes.
10. Do not worry if a toothpick makes a hole in the cake. You can frost it later.
Microwave does not distribute even heat as ovens, Let your cake be still on the counter for around one to two minutes after you bake it. It will help heat to distribute throughout the mug.
11. Take one spoon and then dig in it. Decorate your cake with frosting.
Use a hot pot holder to lift your mug out from the microwave. Do not try to grab it as it might be too hot. This will teach you how to make a cake in a microwave.