ATM Pizza: Automatic Pizza Vending Machine from Yess Pizza in Mumbai
It is the 21st century, and nothing is impossible here. Everything has become so easy. People are so innovative and creative that they have developed machines to make everything comfy and unchallenging.
Vending machines are the most mind-boggling thing that human development in this era. Just put a coin into the vending machine, select your favorite snack or cold drink, and the vending machine will dispense your favorite selected snacks within a minute.
If I tell you, now put the coin in the vending machine and get your favorite pizza ready within 5 – 6 minutes. So, would you believe it? Yes! It was also difficult for me to swallow until I heard about "ATM Pizza." The pizza vending machine is a new and revolutionary concept in the food and beverage industry.
Yess Pizza – Mumbai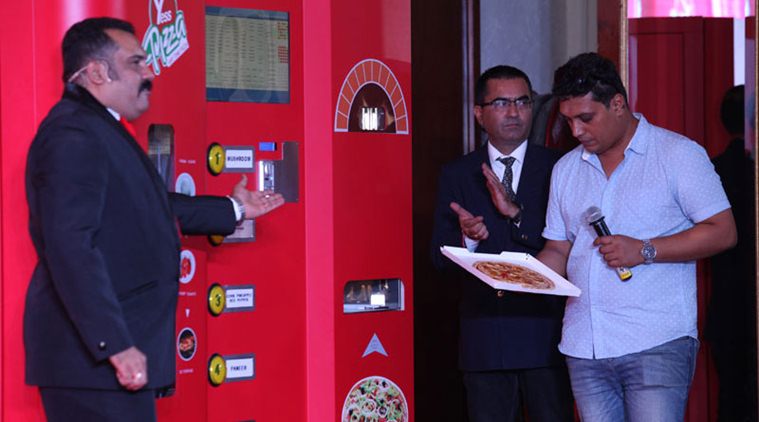 Yess Pizza has launched this unique Anytime Pizza machine into the Indian Market in 2016. That was a completely brand-new idea. Pizza is the most well-liked food among people. They have to wait for long 20-30 minutes to get fresh-baked pizza.
And most of the time, waiting for something irritates a person so much that they forget to enjoy the taste of pizza. But imagine, instead of waiting for 30 minutes, you get your pizza within 5-6 minutes. Is it not cool? Yes, it is time-saving too. Yess pizza has cut the waiting time of 20-30 minutes to 6 minutes.
After launching ATM pizza, Yess pizza's main motto was to make high-quality pizza accessible to everyone, anywhere, and anytime.
Do you know the vending pizza machine cost in India?
If you are thinking to start a new venture or take franchisee of the Automatic pizza vending machine of Yess Pizza then you should first know the cost of the pizza vending machine. After doing much groundwork, I got to know the estimated cost of Pizza Atm.
It may cost you Rs. 50 lakhs to Rs. 80 lakhs. Yes, it is pricey, and you need a big budget to buy this marvelous vending machine.
What did we get in Yess Pizza's menu?
Yess pizza is offering an appetizing and excellent quality pizza in just 5 minutes. Forget the long wait of 30 minutes. Just have your favorite Italian pizza in the next 5 minutes. Yess pizza's menu list has Margherita pizza, Simply Veg Pizza, Premium Veg Pizza, Premium Paneer Pizza.
ATM pizza franchisee
Yess Pizza is going to overtake the food and beverage industry with its new technologies. We have heard this saying that "Time is money." Yess pizza – Mumbai is saving almost 25 minutes of its customer.
If you want to get franchisees of Yess pizza, you can contact them by visiting their website. The most fabulous thing is that you do not need much space to install ATM pizza, just 40 sq ft space will be enough, and no manpower required for serving and making pizza.
ATM pizza machines will do everything on their own. Ideal locations for this are Airports, Food Court, Malls, High School & Collages Multiplex & Theatre Railway Station, Hospital Lobbies, Gas Station.
Yess pizza has tied up with IRCTC. Yess pizza has installed its ATM pizza machine at Mumbai Central station, and their one pizza vending machine is already serviceable at Bengaluru.
Mumbai Central station is the first railway station in India that got this superb automatic pizza vending machine. Not only pizza but you can get french fries as well as ice- cream. How delicious it will be to eat, I'm just wondering?
Now, pizza in 5 minutes can make the Mumbai people journey a little fine. Yess pizza has tied up with Kenya and soon tied up with Thailand, Bangladesh. The cost of pizza depends on the type of order the customer has placed. Mostly, pizzas will cost them in between Rs70 -Rs250.
How can we make pizza in ATM pizza – Mumbai?
Yess pizza has brought Pizzavolution, which means a revolution in the pizza industry. They are directly saving approx. 25 minutes of the customer delivering high quality, delicious, full of cheese pizza. And guess what, this ATM pizza in Mumbai required no human help.
It will bake pizza for you from scratch. The customer has to buy a token from the counter then insert it in the pizza vending machine. After that, they have to choose their favorite toppings, and water will be added to the flour to start kneading to make the fresh dough.
The next step is making a pizza base, the dough is pressed by two plates to give it proper shape like a pizza base. And the third step in pizza making is, adding pizza sauce by an automated circular pipe. It dispenses pizza sauce equally on pizza crust. In the last step, a pre-made cheese base with toppings added.
Various flavors are available in the pizza vending machine-like simple and premium veg, classic tangy Margherita, simple veg. After adding the cheese base, it will move to the preheated oven.
It will bake the pizza evenly at 190 degrees Celsius. You can see the whole process of making fresh pizza with your own eyes.
Once it is baked, you can enjoy the crunchy, creamy, and delicious pizza. I'm just pondering, how pizza vending machine manufacturers designed and made such a stunning machine.
" Enjoy your pizza in just 5 minutes- Yess Pizza (Anytime pizza)"