India's First Robot-Themed Based Restaurant in Chennai
How will you feel when you see a robot in the restaurant bringing food for you? I am sure you will be shocked. Usually, in the restaurant, we have seen the waiters bringing our food and serving. It would be a little new to see robots doing the same thing in restaurants.
Artificial Intelligence has brought revolutions in the restaurant industry by introducing such robots. Or say that due to technology, the restaurant industry has reached the next level. But Artificial Intelligence and Robotics are beneficial for the future or Harmful for humanity, only time will tell better.
In November 2017, India's first robot-themed based restaurant opened in the outskirts of Chennai. The restaurant uses a robot waitress to serve food to the customer. Yes, it is manifestly mind-blowing to see the robot waitress shedding your instructions and serving delicious food for you.
First Robot restaurant in India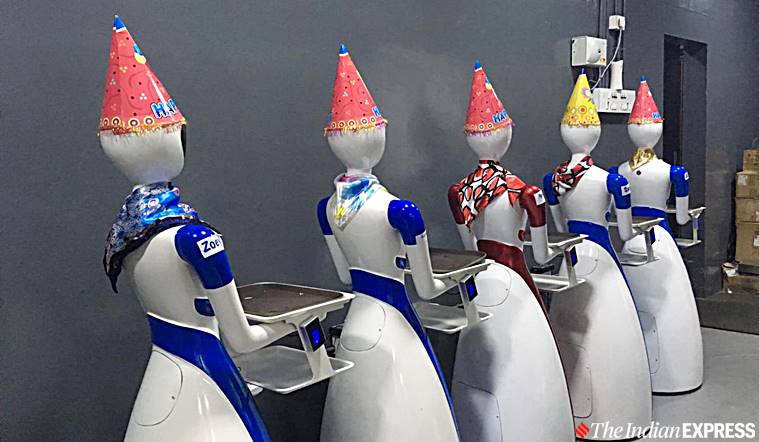 Two friends, Venkatesh Rajendran who is a restaurateur, and Karthik Kannan, an architect had opened this Robot theme-based restaurant in Chennai. Only different and unique things catch sight of the human being. Every time they wanted to see and try new food items.
One day, Karthik Kannan has shared his idea with Rajendran. Rajendran was also fascinated by the idea shared by Kannan. Rajendran has seen such robots and very much intrigued to bring that idea to India. Both Rajendran and Kannan have expertise in their fields.
So, they have to get success in their work. To put things in place, Kannan has bought four robots and went under 15 days training program in Chinese factories. Since then, they haven't looked back and climbed the stairs of success.
Robot Waitress price in India
If you are a restaurateur and runs a restaurant and wanted to enter this robotic restaurant business then you should have an idea about how much cost you have to wear for robots only. In India, it will cost you around ten lakhs per robot.
Venkatesh Rajendran and Karthik Kannan owned four robots named Gia, Alice, Sana andAticca. These robots work day and night, and they are not paying a single penny to them. Robots are working for you free of cost, taking no days off, no festival for them, no employee grievance, how cool it seemed by hearing?
The cost of the robot is very economical, and it allures the customer also. Some people visit the restaurant just to see how robots are entertaining and serving foods to the customer. The customers are always wanted to take selfies with the robot because robots in the restaurant are not a very ordinary thing.
In this Robot restaurant, three robots the restaurant are serving the food to the customers, the fourth is acting as a model for customers to click selfies with. Now, they have opened a robot-based theme restaurant in Coimbatore also.
Robot Waitress Should Hire or Buy
Robots are taking over the restaurant industry. But what is more, beneficial buying a Robot or hiring a robot? Yes, this a big question for future entrepreneurs. Robots are replacing human beings, and in the future, they are going to use in most industries.
Robot waitresses are the perfect marketing tool. Nowadays, everyone is on social media, and they share day to day activities via videos or photographs on the social media platform. People are always looking for new things that make their post unique, different from usual posts on social media.
Marketing is the most important tool that plays a vital role in the success of any business. Just imagine, people are taking photographs with your robots and posting them on their social media and tagging you there.
The customers are posting about you, and your business will start growing without spending a single penny on big marketing campaigns. Because your customers are doing it for you, increasing your social media engagement organically.
If you are looking for a long-term and permanent solution for your restaurant business then buying a robot will be advantageous for you. Sales of robots in different industries are increasing rapidly every year. Robots are the unique assets for the restaurant that attracts the customer.
In case, if you are looking for a one-time event then hiring a robot will save your cost. These robot waitresses have different and fabulous features like facial recognition feature to identify the customer, in-built navigation to navigate their route, voice recognition feature, etc. These robot waitresses can be used in different hotels, cafes, car dealerships,s, etc.
How do robots work in a robot restaurant?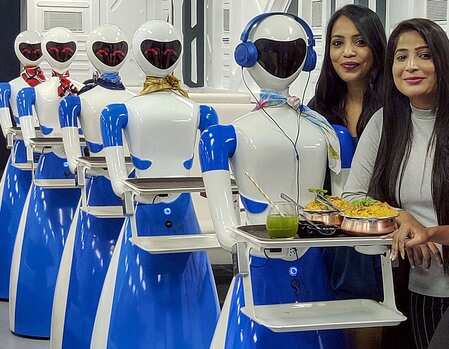 In the first robot restaurant in India, a tablet is provided to every table in the restaurant. The customers select their favorite dishes from the menu given on the tablet, and the kitchen received the order. Once the customer order gets ready, the robot takes the order from the kitchen and move to the right table.
The robot says a few statements in a mechanical voice like Welcome sir, your food is ready, take it yourself, have a nice day", ok Sir, Thank you, Sir. Once, the order is received by the customer they pressed the exited button on the robot's hand. And robot understands their command that the customer had received his order and wanted the robot to leave.
The younger generation doesn't want any human touch at all in the restaurant. When robots bring the order to their table, they take it themselves and serve themselves out. But the older generation is quite the opposite, the oldies want that human to serve their food. Now, there is a big question arising in my mind.
How robots reach the right table? So, let me clear the air, there are long magnetic strips are on the floor for the movement of the robot. And the robot's movements are controlled by using an app.
What are Rajendran and Karthik Kannan's upcoming plans?
Venkatesh Rajendran and Karthik Kannan were planning to become the authorized sole supplier of robots so that they can sell robots in India. Robots are taking over the world and ready to rule every industry. They can be used in the hospitality industry.
People will order robots from them, and they will assemble their parts and then deliver it to the customer. They were also thinking to use robots in the kitchen but they had dropped this plan for now.
If you have the curiosity to meet the robots named Gia, Alice, Sana, and Aticca after reading the article, then don't hesitate to visit the heart of south India "Chennai"