Top 10 Tourist Places to Visit in Gujarat for 2 Days
Gujarat is a state in western India and its capital is Gandhinagar. The state has some sites of Indus Valley Civilization, such as Dholavira and Lothal. Gujarat has many tourist attractions like The Great Rann of Kutch, hills of Saputara, Gir National Park etc.
There are many historical monuments in Gujarat which are a blend of Islamic and Hindu architecture i.e. Indo-Saracenic technique. The state is the birthplace of Sardar Vallabhbhai Patel and Mahatma Gandhi the great freedom fighters of Indian Independence.
Currently, the brand ambassador of Gujarat tourism is Amitabh Bachchan with the campaign "Khushboo Gujarat Ki".
Here is a list of some popular tourist places in Gujarat
1: Somnath Temple
The Somnath temple is located in PrabhasPatan on the western coast of Gujrat near Veraval in Saurashtra, It is believed to be one of the first among the twelve jyotirlinga shrines of Lord Shiva. It is a vital pilgrimage and most popular tourist spot of Gujarat.
In the past, the temple was destroyed and reconstructed several times. Lastly, the temple was reconstructed in Chalukya style, consisting of Hindu temple architecture and it was completed in May 1951. The renovation was planned by Vallabhbhai Patel and was completed under K. M. Munshi, Who was the head of the temple trust.
2: The Gir Forest National Park
Gir Forest is also known as Gir Van and Sasan-Gir, which is a forest and wildlife sanctuary near Talala. It was established in 1965, with a covered area of 1,4km, out of which around 258 km are reserved for the national park and 1,153 km for the Sanctuary, the park is located 43 km in north-east of Somnath, 65 km southeast of Junagadh and 60 km southwest of Amreli.
This region is the only home of the Asiatic lion and is the most protected area in Asia due to its supported species. The diverse flora and fauna and ecosystem of Gir is protected by government forest department, wildlife activists and NGOs.
Read: Most Interesting Facts About Lions and Their Life Information
The forest areas were the hunting or shooting grounds of the Nawabs of Junagadh. Gir is also famous as dry deciduous forest. There are more than 400 plants or species, like sirus, kalam, karanj, umlo, amli, charal.
There are total 2375 fauna species. It includes 2000 species of insects, 37 species of reptiles, about 38 species of mammals and around 300 species of birds.
3: Dwarkadhish Temple
The Dwarkadhish temple is a Hindu temple which is dedicated to Lord Krishna and also known as the Jagat Mandir or Nija Mandir or Trilok Sundar . The temple is a 5-storied building, which is supported by 72 pillars, as per archaeological findings, the temple is around 2,500 years old.
Built by soft limestone and consists of a shrine, entrance and a rectangular hall with porches on three sides. There are two entries: Swargadwarat south i.e. the entrance, and Moksha Dwar at north, where pilgrims exit. Outside the doorway, there are 56 steps that lead towards the Gomati River. It is also called Pushtimarg temple.
The temple was expanded in the 15th- 16th century. The Dwarkadhish Temple follows the guidelines and rituals of Shree Vitheleshnathji and Shree Vallabhacharya. It is a belief that the original temple was built by Lord Krishna's grandson Vajranabha, over the Hari-Griha.
The temple is part of the Char Dham pilgrimage as it is considered sacred by Hindus in India.It is the 108thDivya Desam of Vishnu as is glorified in the Divya Prabandha holy transcripts.
4: Laxmi Vilas Palace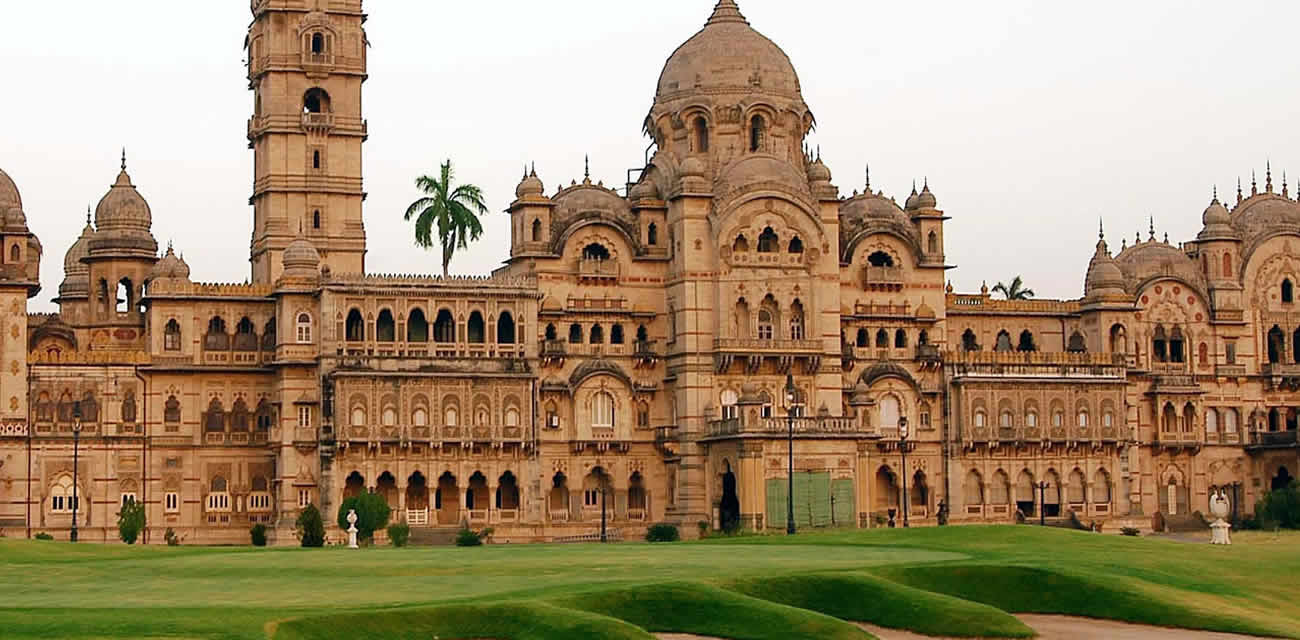 Laxmi Vilas Palace, symbolize the Indo-Saracenic Revival architecture, it was built by Maharaja Sayajirao Gaekwad III in 1890.It is the largest private dwelling, built in 800 acres and four times bigger than Buckingham Palace.
Built with most modern amenities such as elevators and the interior is indicative of a large European Country House. It consists of a number of buildings i.e. Moti Baug Palace and the Maharaja Fateh Singh Museum famous for its fabulous collection of paintings, which belongs to portraits of Royal family and Hindu mythology.
Langoors& peacocks can be spotted around the palace compound. Darbar Hall is famous for ornate artwork and Rajas Throne. It has Venetian mosaic floor, walls are decorated with Belgium stained glass windows and sophisticated mosaic decorations. It is open for public and an audio tour is also available.
5: Akshardham
Swaminarayan Akshardham is situated in Gandhinagar, Gujarat. It is a Hindu temple complex inspired by PramukhSwami, the complex was built in 13 years and it is a tribute to Swaminarayan and his life and teachings.
Akshardham Mandir is situated in the center of the 23-acre complex, which is built with 6,000 metric tons of pink sandstone brought from Rajasthan. Mandir is 108 feet high, 131 feet wide and 240 feet long and features 17 domes, 8 balconies, 97 carved pillars, 220 stone beams and 264 sculpted figures.
According to Vedic architectural principles, no iron or steel has been used anywhere in the mandir. 20 foot-long stone beams of five tons each is used as load-bearing support all over the mandir. There is seven foot tall, gold-leafed Murti of Swaminarayan in the centre of the mandir.
The first floor of the mandir is called the Vibhuti Mandapam and describes the spiritual character of Swaminarayan, the basement of the mandir called the Prasadi Mandapam. The complex has five exhibition halls, which use audio-visual presentations to explore various themes in Hinduism.
6: Rani ki VAV
Rani ki vav is a marvelously constructed step well located in the town of Patan on the banks of Saraswati River, Gujarat, India. Rani ki vav was built as a memorial to king Bhimdev by his wife. It is one of the UNESCO's World Heritage Sites.
Rani ki vav was built in Maru-Gujara architectural technique with a reversed temple and seven levels of stairs and holds more than 500 standard sculptures mainly of avatars of Lord Vishnu, such as Krishna, Varaha, Kalki, Narsingh, Rama, Vamana etc.
Read: Did You Know: Which are the Most Haunted Places on Earth?
The Rani ki vav is now considered as one of the most attractive step wells of India. On October 2016 at Indian Sanitation Conference Rani ki vav holds the title of "Cleanest Iconic Place" in India.
7: Kankaria Lake
Kankaria Lake is located in Ahmedabad, Gujarat, India. Previously the lake was known as Hauz e Qutub,and it is the second largest lake in Ahmedabad. Gurjar Gaurav Gatha a stone mural park near Kankaria lake is India's biggest mural park, the murals or sculptures here depicts the history of Gujarat, great rulers of Gujarat, stories of Mahatma Gandhi, Dadhichi, Sardar Patel etc.
Famous tourist attractions around this lake are Balvatika, Kids City, Amusement Park, Kankaria Zoo, Toy Trains, Nagina Wadi and Balloon Safari.
8: Girnar
Girnar or Revatak Pravata, is a cluster of mountains near Junagadh, Gujrat, India. Girnar Mountains are older than the Himalayas and are considered consecrated due to hosting the number of temples and historical places. Hindus, Jains, Vaishnavaits and Buddhists consider it as a significant pilgrimage site.
Girnar is famous for its flora and fauna, Girnar Parikrama festival and Maha Shivratri fair. The Jain temples ahead Girnar Mountain range are famous ancient temples in India.
9: Tithal Beach
Tithal beach is located near Valsad city beside the coast of Arabian Sea in Gujarat, India. The beach is entirely enclosed by black sand and is well-known for Shri Swami Narayan temple and Shri Sai Baba temple. You can munch Gujarati snacks such as Bhajiya, Bhel Chat, Sweet Corn and Dabeli near various street food shops.
Apart from this, various restaurants which serve Chinese, Indian, Mughlai and other cuisines are also located around the beach area.
10: Lothal
Lothal is famous Indus valley civilization depicting the city in Gujarat, India. The city was discovered in 1954. Lothal's harbor connected the city with Sindh and Saurashtra through Sabarmati River in ancient time for the trading of gems, beads and valuable knick-knacks.
For avoiding deposition of silt harbor was located away from the main current of the river. Main attractions of the city are the marketplace, mound, township, the harbor and an Archaeological Museum where some of the significant collections of Indus Valley Civilization can be seen.