Top 15 Most Popular Destinations in Rajasthan
The main reason people love to travel around the world is thy want to challenge themselves by putting themselves in challenging place, experiences and people. These reasons are varied with people. If you want something different and exciting, It is an ideal place to get yourself.
During travel, they pushes themselves to the extreme and brought you out from your comfort zone. It will help you in learning that how helpful you are when you have to live with new people, places and experiences.If you have finished your journey, then it will give you a feeling of pride.
1 : Neemrana Fort Palace, Alwar
The ancient town in the history of Alwar in Rajasthan is known by the name of Neemrana Fort Palace. It is located in the Behror tehsil near Delhi-Jaipur highway between Behror and Shahjahanpur. It is located in the Golden triangle at Kesroli mostly at equidistant from Delhi, Jaipur and Agra.
It is used as a base for visiting kankawadi fort, Sariska Bird Sanctuary, Pandupol, Neelkanth Temples, etc. The historians find it to be the Marsha Janpad of Mahabharat Times.
2 : Dadhikar Fort, Alwar
A beautiful combination of the graceful of history and beauty of nature is present in the Dadhikar Fort. The ancient art and culture of India is reflected here. One can visit the Silserh Lake, Bala Quila, Sariska Tiger Sanctuary, City Palace and Museum, Vijay Mandir, Jaisamand Lake, Kankwari Fort, Ghana Bird Sanctuary and Abhaneri. If you are visiting Alwar, then Dadhikar Fort is a must visit place which is best known for its location and food.
3: Umaid Bhawan Palace, Jodhpur
One of the largest private residences situated in Jodhpur of Rajasthan. This palace has used the stones of Chittar Hill in its construction so it is also named as Chittar Palace. This palace is managed by the well known group of Taj Hotels. The palace is divided into three parts: history of the royal family, luxurious Taj Hotel and a museum displaying history of 20th century of Palace.
It has various rooms like durbar a place for public meeting, private meeting halls, library, indoor swimming pool, billiards room, squash courts and long passages.
4: Royal Heritage Haveli, Jaipur
The heiness of Jaipur, Madho Singh built the haveli in 18th century. After 150 years, the Haveli has opened its doors for boutique hotel. It is planned to hold light within its interiors in a beautiful way. They offers some unique experience of dining apart from local and foreign patrons to give a memorable experience. It is known to be the most chosen destination by luxury itself.
5 : Jaisalmer Fort
The fort is known to be the largest and full preserved in the Jaisalmer city of Rajasthan. This heritage site of the world is built by Rajput ruler, Rawal Jaisal. The fort has various options for eateries like cuisines of India and French. The fort is experiencing many manifolds due to threats of pollution on it.
Seepage of water, inadequate civic amenities and seismic activity are some of the major concerns for the prevention of it. A secret novel, Sonar Kella has been written on the fort by Stayajit Ray.
6: Patwaon Ki Haveli, Jaisalmer
It is the mostpopular for its architectural marvels in the city of Jaisalmer. This haveli is the first to be constructed in the Patwa Complex of Jaisalmer. The mansion is built with the yellow sandstone in gateway with brown colour. The walls are featured with the paintings and mirror work in a beautiful manner. The most attractive feature is arches and gateways. It is situated at a mile away from Jaisalmer Fort.
7: Sheesh Mahal (Hall of Mirrors)
The Sheesh Mahal has been built by Shahjahan at Amer Fort in Rajasthan. This palace is made of fascinating glasses, also known as Glass Palace of Jaipur. It provides one with the glimpse of architecture with royal beauty and their love for aesthetics. The construction of Sheesh Mahal is an example of Islamic Architecture on Rajasthani designs.
8: Jaisalmer War Museum
The museum has been conceived by the Indian Army and dedicated to the Nation on 24th August, 2015. This is a first initiative which showcases the glories of Indian army. In the premises, an honor wall is built which engraved the names of awards winners like Param Vir Chakra and Mahavir Chakra and two large halls displaying information about the Indian Army, an audio visual room and laungewala halls.
9: Pushkar Lake, Ajmer
The Sanskrit name is Pushkar Sarovar and situated in Ajmer district of Rajasthan. Among Hindus, it is known to be a sacred place. It is believed to be the king of all pilgrimage sites which are related to water bodies and known for the creator Brahma. The single dip is enough for the cleansing of sins and curing skin diseases. The Pushkar Fair is organised in the month of Kartik around October to November.
10 : Brahma Temple
Also known by the name Jagatpita Brahma Mandir. A hindu temple situated near the Pushkar Lake has an unbroken link with it. The married men are not allowed to worship the deity. The three aartis are performed in the morning known as manual aarti, in the evening known as Sandhya aarti and in night known as ratri shayan aarti.
11 : Mount Abu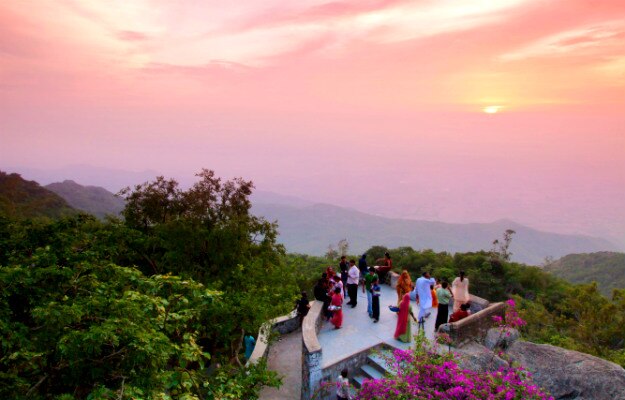 It is a popular hill station situated in the Aravali range of Serohi district in Rajasthan. It is situated at the western side of Rajasthan just at the border of Gujarat. On the mountains, Abu Wildlife Sanctuary is situated in area of around 290 square kilometres. The mountain is also home to several Hindu Goddess.
12 : Rathambore National Park
It is one of the largest National parks in northern India covering area of around 392 square kilometres. This is widely known for tigers and here one can see the animals in their natural habitat. The best time for seeing tigers is in November and May. The park also have deciduous forests which are found generally in Central India. The other wild animals present here are Nilgai, leopard, sambar, wild boar and sloth boar.
13 : Padam Talab
After returning from the fort, it would be a spot for refreshment. It is known for seeing the chinkara who appeared rarely with other animals in the water at dawn and dusk. It gives the unique picturesque view of Rathambore.
14 : Flying Fox Neemrana
The place is famous for Indias zip tour known as Indian Zip wire. It is situated in the outrage of ranges of Aravali Hills. It can be viewed from the Neemrana Fort Palace. It has five lines upon which navigation is done in every 2 or 3 hours.
15 : Bhangarh Fort
It was built by Man Singh 1 for his younger brother Madho Singh 1 in 17th century. The new village Bhangarh has been developed outside the fort due to the fear of ghosts. Now it is known by the name of Bhoot Bangla or House of Ghosts. At the main entry of the fort, one can find palaces, Temples and haveli.