Desi Samurai – Prabhakar Reddy, India's Best Martial Arts Expert
There is no shortage of talent in India. If you left your house to find some kind of talent, then you did not come back empty-handed. There is talent in every corner of India. Whether it is a street child or a rich family.
Talent is not obedient to any caste or category. Today, I am going to introduce you to a personality that is also known by the name of "Desi Samurai" and some people also know him as a Martial arts expert – Prabhakar Reddy.
Let's put some light on his life and his astounding world records.
Desi Samurai – Prabhakar Reddy
Now you are not thinking why I am calling martial arts expert – Prabhakar Reddy "Desi Samurai"? We all know the meaning of desi and samurai means warrior. Samurai are very experienced and trained warriors. Master Prabhakar Reddy belongs to the land of Andhra Pradesh – Nellore.
He is also known as "Desi Samurai of Nellore". Master Prabhakar Reddy is a big fan of Bruce Lee.
He started his martial arts journey from the age of 11 and never took a pause after that. Today he has a successful career in martial arts. He is a successful martial arts teacher and has its own academy. Along with learning martial arts, he is making world records and writing the name of India in golden words.
India's best Martial arts expert
Prabhakar Reddy is one of India's best martial arts experts. I am not saying this in the air just like this. Master Prabhakar Reddy started martial arts practice from the age of 11. His current age is 36. He has been almost 25 years of experience in this field.
If you think that he has been trained in martial arts only from India, then it is wrong to guess that he has trained in martial arts from Japan, China, Malaysia, and Sri Lanka. He is proficient in his skills. Now he is teaching his skills to Indian children. He spent his entire life teaching martial arts to Indian children.
He believes that in today's time, it is important for children to know self-defense, whether it's a boy or a girl. Martial arts increase the physical fitness of children and also they learn to live in discipline and become mentally strong.. That is why Prabhakar Reddy is one of India's best martial arts experts as well as a good human being.
Let's know about India's martial arts experts – Prabhakar Reddy crazy daily schedule
People work hard day and night to fulfill their dreams. Likewise, our martial arts expert Prabhakar Reddy is very hardworking and disciplined. His daily schedule is crazy like him. He gets up early at 5 am and goes to his institute.
He does his practice till 9:30 am and also trains children in martial arts. And then after his breakfast, start practicing again. After completing his lunch at 12 pm, he gives training from 2 pm – 4 pm to students in school for martial arts. Then 5:30, he goes back to his institute again and takes his classes till 9:30 pm. Omg, so much busy schedule. I am feeling dizzy after listening to this crazy schedule.
He had already trained more than 1 lakh students. And he also has 1500 black belt students. Along with helping children learn martial arts, he is breaking the World Martial Arts records and also doing his practice with planning. He has performed for 10 hours 15 minutes and has also held the titled "Non-stop martial arts performance" in the India Book of Records.
World records of Indian best martial art expert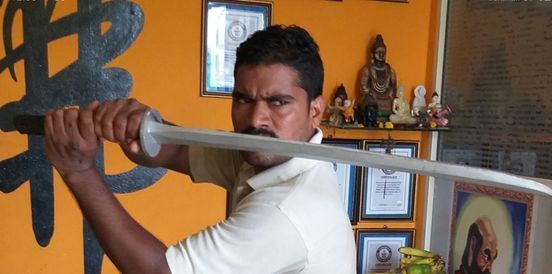 Master Prabhakar Reddy has broken many records. His first record was most knees strike under one minute. And he made a world record of 97 knees strike that too in a minute. Let's think, there are 60 seconds in a minute and he took less than 1 second for a single knee strike. How fast must he have to perform? Wonderful!. Prabhakar Reddy is set to break even more world records.
He has broken many world records. In 2018, he had broken a total of 18 records and was involved in the planning and practice of breaking other records.
Second record: His second and most unique record is of "walnut crush". Yes, it is a little strange to hear, but in 1 minute he had smashed 212 walnuts from his hand in many pieces. It is difficult for us to break even with walnut stones, but world record breaker – Prabhakar Reddy crushed 212 walnuts by his single hand. With this, he has got his name registered in the Guinness world record Book.
He has made this record by beating Mohammad Rashid of Pakistan in breaking the walnut. 36-year-old Prabhakar Reddy broke the walnut with lightning speed and took the Guinness World Record to his name.
Third Record: His third record is the most tie-ups in one minute. And his record was 37 tie-ups in one minute.
Fourth record: His fourth record is the most martial -arts throws in one minute. And his record was 35 martial -arts throws in one minute. He has made one record after another like 390 punches with one hand in one minute,110 fist push-ups in one hand, 65 thumb push-up in one minute, and many more.
Along with learning martial arts, Prabhakar Reddy also gives the message of living a healthy life. A healthy lifestyle is very important for everyone.
I think Master Prabhakar Reddy is born to make martial arts records. He also holds the title for the "Longest Kung Fu Practice Marathon" in India book of record.
These records have been made by different martial arts experts, which have been broken by Prabhakar Reddy – India's martial arts expert. Master Prabhakar Reddy is an inspiration for all of us.