Nelson Mandela Day: Nelson Mandela International Day (18 July)
Nelson Mandela was the president of South Africa. He fought for justice for around 67 years. He, as the statesman and activist fighting for the rights of black people in South Africa. He also focused on poverty and struggled for freedom.
The Nelson Mandela Foundation and 46664 concerts organized a concert at Radio City Music Hall on his birthday anniversary to mark the first international Mandela Day celebration. After that, in the year 2009, in November, the United Nations General Assembly has formally declared 18th July as Nelson Mandela International Day.
Nelson Mandela International Day
World Nelson Mandela Day is also known as Mandela Day. This day is celebrated on 18th July every year. This international day remembers the whole world for the achievements of Nelson Mandela towards democracy, conflict resolution, human rights, reconciliation, and peace.
When Is Nelson Mandela Day celebrated?
Nelson Mandela day is celebrated on 18 July every year. This year in 2020, Mandela Day is going to be celebrated on Sat, 18 July. The man is respected for his promise and commitment to values such as equality, freedom, and respect.
Why do we celebrate Nelson Mandela's day?
South Africa got independence in the year 1994 due to the struggles and sacrifices of Mandela. And at that time, he became the president of South Africa. He introduced many social schemes, land reforms, and healthcare services for poor people.
He attained iconic status and got many awards in his life. He also received the Nobel Peace Prize and Bharat Ratna award, which is the highest civilian award of India.
In the year 2009, in November, the United Nations recognized his birthday as an International Mandela Day. Though, in South Africa, it is not a public holiday. His birthday has been celebrated as International Mandela day to honor his values and sacrifices.
He died in the year 2013. We still celebrate his birth date as international Nelson Mandela day. The United Nations recognized this day, and it is celebrated internationally on the same date every year.
Five things to do on Nelson Mandela Day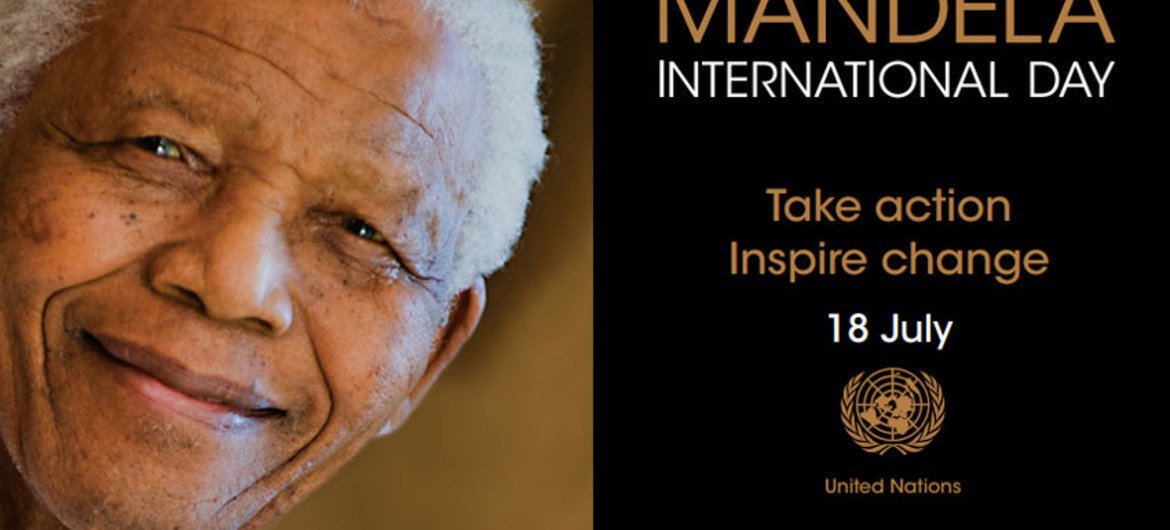 It is an international day that happens every year on 18th July on the birthday of Nelson Mandela. Nelson Mandela was the president of South Africa. This day is celebrated for the honor of his legacy.
Take a look at some suggestions given below if you are interested in participating in Nelson Mandela Day.
You can feed the hungry in your locality. Make a group of friends on this Mandela Day and have some food packages together to feed the needy people.
Make the day special for the people in nursing homes. However, it is not about forgetting your older adults but give special treatment to those who have never earned love before.
How will you feel when you have to spend some time with orphanage people and bring a smile on their face? It's quite overwhelming for this approach. Try to provide some services to those orphan children in whatever manner you can do it.
Try to help non-profit organizations searching for help in painting, cleaning, building, and moving. There is nothing better than getting your hands dirty with paint and having sandpaper in your hand.
Spend time to spread awareness among people for maintaining cleanliness around. The first step is what you do. Try to clean your surroundings with a small initiative.
History and significance International Mandela day
National Mandela day was first launched on 18 July 2009 in New York. The United Nations General Assembly has declared 18 July as "Nelson Mandela international day" on 10 November 2009.
Nelson Mandela used to show his involvement in promoting human rights, resolving conflicts, reconciliation, and an international democracy and addressing racial problems. That's why this international day marks peace.
There is a great importance of Mandela day. Various statues and civic tributes have been made to honor Nelson Mandela. One of the famous figures is in his image at Nelson Mandela Square in Johannesburg in South Africa.
There is also a bridge in Johannesburg, which is known as Nelson Mandela Bridge. Various musical tributes and Postage stamps have also been dedicated to Nelson Mandela in the previous times.
Quick facts about Nelson Mandela day
Somehow, you may know about Nelson Mandela. But you may not know him deeply.
Here are some quick facts about Nelson Mandela's day.
Nelson Mandela Day is a tribute to Nelson Mandela's birth date, 18 July 1918.
His real name was Rolihlahla Mandela, born in Transkei, Africa.
According to the birth name, it defines him to be a troublemaker.
The name changed to nelson Mandela when he was seven years old.
Nelson Mandela has a great connection with his father, but he passed away when Nelson was 12 years old. And later, relatives took custody of him.
Nelson got expelled out for conducting a strike against the rule of white people from Fort Hare Missionary College.
Nelson joined African National Congress in 1942 and later became Deputy president of that party.
Along with being an activist, Nelson was also a lawyer, but later, he was prisoned for the entire life.
Through that time, Nelson used to be on the secret talks with F.W. de Klerk, who was the President of South Africa.
After being freed from jail of 27 years, Nelson was the first President of S.A. elected as per democratic rules.
Nelson developed respiratory problems after turning 95, which caused severe lung infection to him.
Eventually, he died on 5 December 2013 when he was 95.
And today, due to his kind acts, people today celebrate World Nelson Mandela Day every year to pay tribute to his good deeds for equality.
Conclusion
On this world Nelson Mandela day, people not only celebrate the life of Nelson Mandela, but it is also a call to action to show people's ability to have a positive effect on other people all around them. People get inspired on this day to embrace the values such as freedom, democracy, diversity, equality, respect, and reconciliation that he shared.