World's First Touch-Enabled, Programmable, LED T-shirt
Technology has advanced to almost every industry. Today, we have a smart fitness band, smartwatch, and even smart home. But the fashion industry was untouched a few years back but now, thanks to Ayyappa Nagubandi, who brings a new revolution with the fashion tech concept.
Ayyappa Nagubandi is a Founder and CEO of Broadcast Wearables Pvt. Ltd. launched the World's first touch-enabled, programmable, LED T-shirt.
We all love to wear tees with funny, emotional, and cranky quotes. But sometimes we regret after buying it. Because mood changes with time and wearing a tee with the same quote or words is run-of-the-mill.
But what if you can display any wording, slogans, and emotion on your tee any time with the help of your smartphone just to express yourself? The flexibleness to use animation with or without text is a cherry on the cake. This fashion tech blend blew my mind, and I am sure yours too.
The story behind Broadcast T-shirt
The mastermind behind this innovation "Ayyappa Nagubandi" is known as a serial entrepreneur. He has started many startups, but Broadcast Wearables is a real success. Ayyappa told tech in Asia that how men have very few choices of clothes.
What they usually wear is a shirt or t-shirt with a few varieties like full sleeves, half sleeves, and text in front or back. But if they can display the text or animation on their t-shirt as per their mood or choice, how cool will it be? It will open more options for men. Also, women can add these cool and fashion-tech t-shirts to their wardrobes.
Why touch-enabled t-shirt is Unique?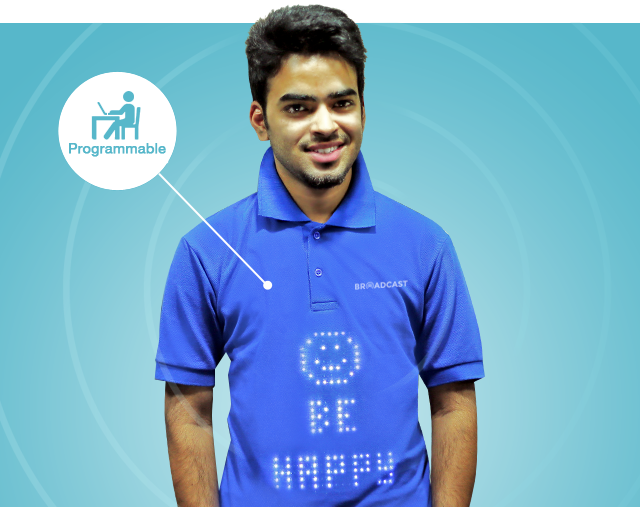 This incredible piece of technology is a way to express your thoughts and emotion on a t-shirt and that you can change anytime with a single click on the logo button on your t-shirt. For example, you wanted to ask someone to join the party. You can display a message like "Wanna join the party tonight? Or you can use any animation". It's a sui generis way to show your personality.
The digital t-shirt has nearly 960 tiny LEDs. It is attached to an app, just like a fitness band or a smartwatch. And the app is compatible with both android as well as IOS devices. With the help of the app, users are free to express themselves. Are you excited to buy this touch-enabled, programmable, LED T-shirt? I am sure you are.
How touch-enabled t-shirt Hyderabad works:
Let's have a look into the simple steps:
Firstly, Download the broadcast wearable app on your Android or IOS device.
Same as a fit band and smart band, pair the app with a t-shirt.
You can add any design or test to the t-shirt as per your mood.
You can replace the design whenever you want. And even you can draw any animation with your finger on the app. How cool is it?
You can share the design with the broadcast community as well as you can pick any design or animation and save it for later use from the broadcast community.
With a single touch on the logo on the t-shirt, you can change the design.
Amazing, right?
What qualities broadcast wearables t-shirts have?
You will be amazed by the qualities that broadcast wearables have. Here is the list for you.
It is very comfortable to wear.
Broadcast wearables t-shirt is programmable.
It is 100% cotton, waterproof as well as shockproof.
It is touch-enabled and chargeable also.
What are the downsides of broadcast wearables t-shirt?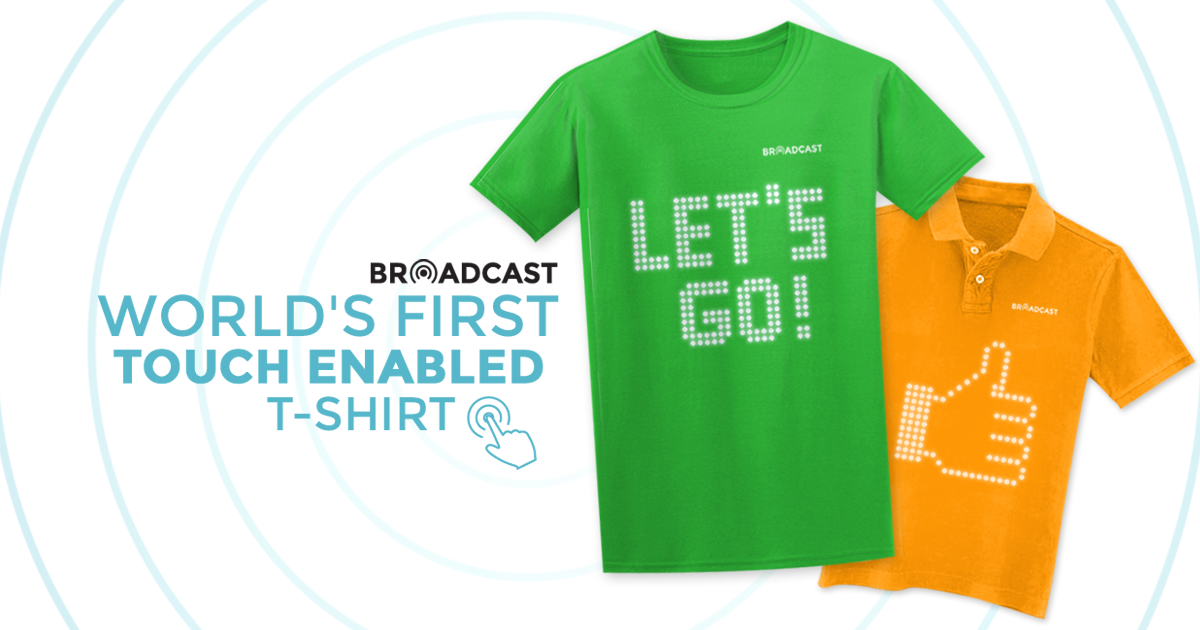 The broadcast wearables t-shirt has come up with many qualities, but it has a few downsides too. Its battery life is for only 4 hours, and it takes 2 hours to charge completely. A USB cable will be there for charging the battery along with the t-shirt while ordering it.
The broadcast wearables t-shirt is washable with hands only. You cannot wash it in the machine.
Broadcast t-shirt Hyderabad price
A single piece of this broadcast t-shirt will cost you around the US $49-69. The Broadcast t-shirt price is quite high for Indians. This digital t-shirt is available in all from XS -XXXXL sizes. From children to adults, anyone can wear it. Along with sizes, it comes in 15 colors as well as a collared or round neck style.
India's touch-enabled t-shirt buy online
Wanted to buy a digital t-shirt? Visit www.getsygnal.com website and order one for you. Syngnal is a brand of Broadcast Wearables Pvt Ltd. They are selling these digital t-shirts with Syngnal brand name.
Broadcast Wearables Pvt Ltd has also launched a fitness t-shirt. This t-shirt can track your body's activities like daily steps, calories burned, and many more things, just like a fitness band.
In case you haven't one, grab yours, and express emotions via a digital t-shirt.